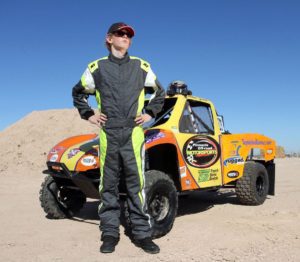 Top Notch Collision & Repair along with Western Honda, K1 Gear, Trench Shore Rentals, Matco Tools and others, are proud to be sponsoring Off-road Truck driver Aiden Greene.
Aidan's dream is to one day race for NASCAR. Three NASCAR drivers, Austin Dillon, Dale Earnhardt Jr. and Kyle Busch, recently posted times at Phoenix K1 Speed when they were in town. None recorded a time less than 25 seconds or better than Aidan's track record.
For the immediate future, Aidan said his 2017 goal is to continue getting used to the Mod Truck and the dirt track and to just finish some races. He's learning how to race with competition on the track beside him as well.
"Once I know how to drive the car, for 2018 my main objective would be to try and get first place," Aidan said.
ARCA is the Automobile Racing Club of America, a premier stock car racing series, which just might be the next step in a future stock car racer's journey.
Aidan's next major race is April 8-9 at Wild Horse Pass Motorsports Park.
Read more about Aiden by reading an article from Casa Grande Dispatch.
Tags: