Auto Paint Services in Chandler
The paint on your vehicle is often the first thing people notice especially if the paint is chipped, scratched, or damaged.
Our auto body repair shop provides a variety of collision repair services for foreign and domestic vehicles all while working with every major insurance company.
We want you to know that at Top Notch we take pride in our quality of painting. Many people believe that painting a vehicle is a one step process, but it is actually an intricate process that requires professional training, expertise, and precision.
Our painters begin the process by ensuring the surface they are working on is flawlessly clean by removing any dirt, grease and any other materials that may get in the way. Afterwards they prepare the vehicle for primer. Once the primer has been applied, cured, and the area sanded down, the surface area is ready to be painted.
To ensure a factory finish we mix the factory basecoat to match the vehicle's color and spray the vehicle with the exact match. Once the basecoat is ready for the top coat, the clear coat is applied. This part of the process restores the natural gloss finish to the factory appearance.
If you have a tiny scrape or large gash, Top Notch Collision & Repair has the tools and knowledge to make sure your paint looks seamless.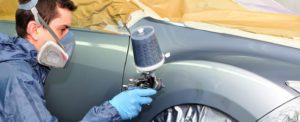 Paint chips can result from rocks or gravel thrown up by a vehicle in front of you. Which is a common occurrence here in Arizona, especially around construction. These blemishes can be hard to cover-up with simple touch-up paint, and can make the overall appearance of your vehicle less attractive. At Top Notch we can get your vehicle's paint finish looking like new again.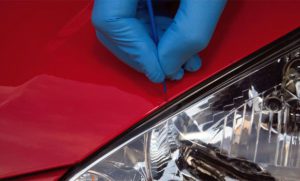 Contact Insurance carrier
Drop by or Schedule an Appointment
Prepare Estimate
Arrange rental car
Insurance company review
Provide contact info for updates via phone, email, or text
Vehicle is taken apart to identify damage
Insurance & customer approval
Estimated completion time sent via phone, email, or text
Body, part, and mechanical repairs
First quality inspection
Confirm delivery date via phone, email, or text
Body smoothing & sanding
Primer, paint, and clear coat applied
Second quality inspection
Vehicle put back together
Final delivery date sent via phone, email, or text
Light cleaning
Final Service Advisor quality assurance check
Vehicle test drive as needed
Pick up your vehicle when promised
Resume the rhythm of your life
9. Top Notch Lifetime Warranty
Our work is backed by the Top Notch Lifetime Warranty, learn more by clicking here
Frequently Asked Questions